Bachelor of Science in Business Administration
Your Success is Our Mission
Learn More
Fill out the form to receive information and connect with an enrollment counselor.
Note: All fields required.
Your Future in Business Starts Here
Build a foundation for business success with the nationally recognized online Bachelor of Science in Business Administration program from Campbellsville University Online. Our flexible, affordable, convenient programs allow you to study when and where you want, at a time and place that work with your schedule. Benefit from small classes taught by professors with real-world experience and a supportive environment designed to help you thrive. And thanks to our generous credit transfer policy, you can finish faster.
Life is calling. If Campbellsville University Online sounds like part of the answer, we encourage you to take the next step by requesting more information.
Campbellsville's professors offer valuable guidance and education to position you for success in rewarding career fields. Our affordable online programs are ideal if you want flexibility in how you learn or need to balance your work and family responsibilities.
More than 90% of Campbellsville students receive financial aid
Named one of the "50 Most Affordable Christian Colleges and Universities"1
Business and finance employment is projected to grow 7% from 2021 to 20312
Accredited by the Southern Association of Colleges and Schools Commission on Colleges
Eight Concentrations
Our online Bachelor of Science in Business Administration program includes concentrations for tailoring your education to your career goals.
Learn business law and ethics, tax law and finance to help you succeed as an accounting professional across industries.
Explore the dynamic field of information technology and develop the leadership skills to serve in critical leadership roles in business.
Learn to protect the data and integrity of all aspects of computing resources involved in an organization's network.
Examine new reforms within the vast medical services field.
Discover personnel proficiencies that are critical to effective oversight.
Learn how to lead others, assess management styles and set measurable goals to achieve critical business objectives.
Build a solid understanding of marketing concepts, including audience targeting and creating compelling messaging.
Acquire the knowledge, tools and skills necessary to manage and control global supply chains.
About Campbellsville University
Founded in 1906 as a Christian university, Campbellsville welcomes diverse perspectives and prepares students to become Christian servant leaders. We offer online degree and certificate programs in a convenient format so that you can grow professionally and personally by studying when and where you want.
Request Info
A Flexible Way to Achieve Your Goals
With our online programs, you can get the flexibility to thrive in your career and life while seeking a degree or certificate. You won't have to attend campus — instead, you will log into an online learning environment to learn, complete assignments and interact with your instructors and peers. You'll benefit from the same quality education students experience in person, only in a convenient format that we deliver directly to you.
Prepare for Leadership in a Global Economy
Our online bachelor's in business administration program gives you the opportunity to learn from faculty members who incorporate real-world experience into the curriculum. Their guidance helps you gain managerial skills for tackling more responsibility in your workplace so that you're prepared to assume leadership roles higher up the corporate ladder. The core curriculum delves into: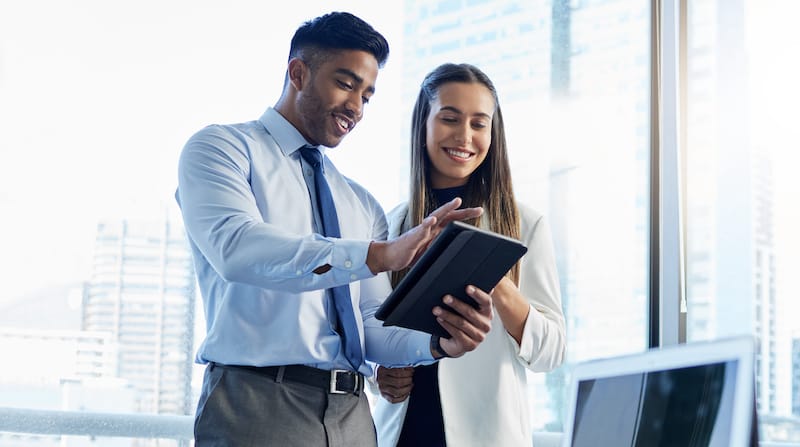 Achieve a Positive ROI for Your Career
Accelerating economic expansion creates a wealth of opportunities for business professionals. Projections show that from 2021 to 2031, business and finance employers will attempt to hire an average of 980,200 per year. These roles pay a median annual salary that is 67% higher than the average for all occupations.2
Rewarding Business Careers
Logistician
Customer success manager
Finance manager
Project manager
Restaurant manager
SACSCOC Accreditation
Campbellsville University is accredited by the Southern Association of Colleges and Schools Commission on Colleges (SACSCOC) to award certificates, associate, bachelor's and master's degrees. Contact the Commission on Colleges at 1865 Southern Lane Decatur, Georgia 30033-4097, or call (404) 679-4500 for questions about the status of Campbellsville University.
Sources
Online Christian Colleges. "50 Most Affordable Christian Colleges and Universities." Retrieved September 13, 2022, from https://www.onlinechristiancolleges.com/.
U.S. Bureau of Labor Statistics. "Business and Financial Occupations." Retrieved September 15, 2022, from https://www.bls.gov/.