Online Business Degree Programs
Your Success is Our Mission
Learn More
Fill out the form to receive information and connect with an enrollment counselor.
Note: All fields required.
Study to Succeed in an Exciting and Lucrative Field
Whether you're starting your college education or ready to lead, Campbellsville University offers a program to help advance your career. You can choose from a range of study areas within the world of business, including accounting, church management, healthcare, human resources, management and marketing.
Because we offer business programs fully online, you can attend class when and where you want. Our online programs give you ultimate flexibility in your schedule and provide the same quality academic experience as degrees offered on campus.
Campbellsville's professors offer valuable guidance and education to position you for success in rewarding career fields. Our affordable online programs are ideal if you want flexibility in how you learn or need to balance your work and family responsibilities.
More than 90% of Campbellsville students receive financial aid
Named one of the "50 Most Affordable Christian Colleges and Universities"1
From 2021 to 2031, there will be over 900,000 job openings in the business and finance fields2
Accredited by the Southern Association of Colleges and Schools Commission on Colleges
Online Business Programs
Campbellsville University has degrees and certificates at all levels. Take time to explore the diverse programs we have to offer.
60 Credit Hours; 2 Years
Begin your journey toward a fulfilling business career with our fully online associate degree.
120 Credit Hours; 4 Years
Learn business fundamentals while exploring the trends behind today's fast-paced economy.
120 Credit Hours; 4 Years
Gain insight into business concepts and practices to prepare for careers in corporate environments.
120 Credit Hours; 4 Years
Explore the business of athletics while preparing for numerous leadership positions in this field.
30 Credit Hours; 2 Years
Turn your passion for sports into a successful career by building the expertise to lead in the sports industry.
30 Credit Hours; 2 Years
Get ready to flourish as an ethical manager by acquiring superior leadership, conflict resolution and communication skills.
36 Credit Hours; 2 Years
Enhance your business acumen to oversee how organizations tackle complex challenges and capitalize on emerging technologies.
36 Credit Hours; 2 Years
Prepare to climb the corporate ladder within your organization while preparing for the certified public accountant (CPA) exam.
36 Credit Hours; 2 Years
Build business expertise relevant for managing a church and learn how religious institutions utilize their foundations in faith to excel in the modern economy.
36 Credit Hours; 2 Years
Hone your technical and business talents to modernize how companies access opportunities in a global economy.
36 Credit Hours; 2 Years
Endeavor to pursue a wealth of business ventures and lead teams by gaining leadership skills for pushing organizations to the next level.
36 Credit Hours; 2 Years
Meet the rising demand for healthcare managers while building your business and leadership expertise.
36 Credit Hours; 2 Years
Specialize in managing modern workforces and gain expertise in hiring, onboarding and labor regulations.
36 Credit Hours; 2 Years
Immerse yourself in cutting-edge technologies with the power to transform how companies attract customers.
36 Credit Hours; 2 Years
Learn international business ideals, policies and marketing best practices to help companies thrive in a global economy.
36 Credit Hours; 2 Years
Become a marketing leader versed in strategies and practices for enabling organizations to stand out in a media-saturated marketplace.
36 Credit Hours; 2 Years
Develop an advanced toolkit for fostering business growth by streamlining supply chains and logistics.
27 Credit Hours; 1–2 Years
Earn credentials for the Kentucky CPA examination, with the skills needed to pass it.
18 Credit Hous; 1 Year
Gain the expertise needed for digital and social media roles to create strategies for brands to connect with their fans.
About Campbellsville University
Founded in 1906 as a Christian university, Campbellsville welcomes diverse perspectives and prepares students to become Christian servant leaders. We offer online degree and certificate programs in a convenient format so that you can grow professionally and personally by studying when and where you want.
Request Info
A Flexible Way to Achieve Your Goals
With our online programs, you can get the flexibility to thrive in your career and life while seeking a degree or certificate. You won't have to attend campus — instead, you will log into an online learning environment to learn, complete assignments and interact with your instructors and peers. You'll benefit from the same quality education students experience in person, only in a convenient format that we deliver directly to you.
Online Courses Built for Your Ambitions
With quality degrees at the associate, bachelor's and master's levels, you can gain the skills to increase your professional success, wherever you stand in your career. Students at every level can learn communication skills, fundamental accounting techniques, management competencies and industry knowledge. Moreover, we combine our well-designed curricula with our commitment to faith so that you graduate equipped with professional competence and Christian values as you advance in your chosen field.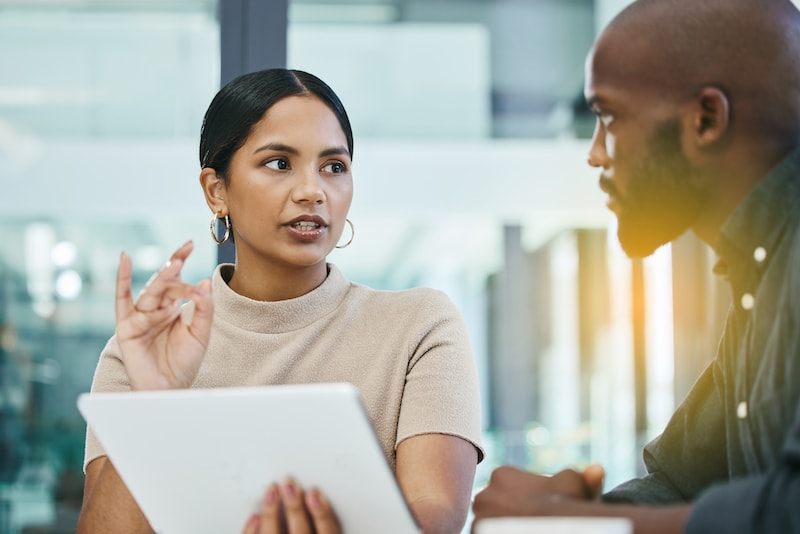 Your Future in Business is Waiting
By seeking your business degree online with Campbellsville, you can develop expertise in the trends that could change how business works. At the same time, you'll learn critical business principles, communication skills, accounting techniques and other competencies relevant to success in a global economy. As a business professional, you can qualify for roles with a median salary 67% higher than the average for all occupations.2
Rewarding Business Careers
Finance Manager
Human Resources Manager
Logistics Manager
Marketing Manager
Project Manager
Supply Chain Director
SACSCOC Accreditation
Campbellsville University is accredited by the Southern Association of Colleges and Schools Commission on Colleges (SACSCOC) to award certificates, associate, bachelor's and master's degrees. Contact the Commission on Colleges at 1865 Southern Lane Decatur, Georgia 30033-4097, or call (404) 679-4500 for questions about the status of Campbellsville University.
Sources
Online Christian Colleges. "50 Most Affordable Christian Colleges and Universities." Retrieved September 13, 2022, from https://www.onlinechristiancolleges.com/.
U.S. Bureau of Labor Statistics. "Business and Financial Occupations." Retrieved September 15, 2022, from https://www.bls.gov/.