Become a Leader in Education
Your Success is Our Mission
Learn More
Fill out the form to receive information and connect with an enrollment counselor.
Note: All fields required.
Pursue Your Passion for Education
Our online education degrees are industry-driven and teach you how to incorporate Christian servant leadership in the classroom and school. You will be able to earn the required credentials for specific opportunities while advancing your career. Additionally, you can add endorsements to any program to teach a specialized demographic. We also offer several Option 6 programs so that you can seek a temporary teaching certification while completing your coursework.
Campbellsville's online education programs are the most affordable in Kentucky. Many programs start at $310 per credit hour.
Campbellsville's professors offer valuable guidance and education to position you for success in rewarding career fields. Our affordable online programs are ideal if you want flexibility in how you learn or need to balance your work and family responsibilities.
More than 90% of Campbellsville students receive financial aid
Named one of the "50 Most Affordable Christian Colleges and Universities"1
From 2021 to 2031, there could be over 900,000 job openings in the education, training and library fields per year2
Accredited by the Southern Association of Colleges and Schools Commission on Colleges
Online Education Programs
Campbellsville University Online offers a variety of education degrees to support your professional goals. Explore our online programs to find the option that's right for you.
65 Credit Hours; 2 Years
Gain foundational skills for helping young children build a love for learning.
65 Credit Hours; 2 Years
Learn teaching fundamentals and prepare to change lives in your career with our online associate degree in education.
120 Credit Hours; 4 Years
Develop a global perspective on supporting diverse groups of young learners in inclusive early childhood classrooms.
123 Credit Hours; 4 Years
Make a difference in young students' lives and seek initial licensure for teaching in an elementary school in Kentucky.
143 Credit Hours; 4.5 Years
Obtain licensure and gain the interdisciplinary knowledge, skills and experience needed to educate young children from birth through 5th grade.
120 Credit Hours; 4 Years
Gain expertise in interdisciplinary studies as you prepare for initial teacher certification.
136 Credit Hours; 4.5 Years
Pursue competitive credentials to fulfill your aspirations for elementary education and special education.
122 Credit Hours; 4 Years
Prepare to support primary–12th-grade students with learning and behavior disorders in Kentucky.
48 Credit Hours; 18 Months
Prepare to transform student lives by meeting their academic, social, emotional and career needs as a school counselor.
30 Credit Hours; 2 Years
Designed for current and future administrators, this program helps you gain competencies for overseeing all aspects of school leadership.
30 Credit Hours; 18 Months
Gain hands-on experience and skills to promote student learning from the highest levels of leadership.
30 Credit Hours; 18 Months
Prepare to practice Christian servant leadership as a district-level administrator to empower students and support teachers of all levels.
36 Credit Hours; 2 Years
Acquire administration-caliber skills to lead and mentor your fellow faculty members.
30 Credit Hours; 18 Months
Move beyond traditional teaching roles by preparing to excel in education administration and school management.
39–48 Credit Hours; 18 Months
Prepare for a rewarding career in special education, gaining knowledge for working with students with learning disabilities or emotional and behavioral disorders.
30 Credit Hours; 18 Months
Acquire the expertise needed to create learning environments conducive for special education students.
36–42 Credit Hours; 18 Months
Pursue a career in teaching by gaining the knowledge needed to support and educate elementary school students.
30–36 Credit Hours; 12–18 Months
Learn to apply effective teaching methods as you prepare to transition to high school teaching roles.
33–39 Credit Hours; 12–18 Months
Get ready to teach health and physical education at the K–12 level, or begin a career in health programming with our online MAT degree.
33–39 Credit Hours; 2 Years
Gain the skills to make a positive impact on a child's life and future, helping them build a solid foundation and love of learning.
36–39 Credit Hours; 2 Years
Gain expertise in teaching the English language to non-native speakers in the United States and across the globe.
32 Credit Hours; 2 Years
Engage in direct music training by exploring advanced teaching theories, music education strategies, specialized instruction and the communicative nature of music.
36–42 Credit Hours; 14 Months
Establish foundational knowledge of the Montessori philosophy and early childhood education methods.
30 credit hours; 12-24 months
The M.S. in Applied Behavior Analysis is an online, 30-credit program that teaches students the skills to help others successfully learn, acquire life skills and form positive relationships in their communities.
12 Credit Hours; 6 Months to 1 Year
This program equips administrators with the tools to help students thrive in school while supporting school counseling efforts geared to offer the best resources to students.
21 Credit Hours; 1 Year
Prepare to identify and assess the needs of students with physical disabilities, mental challenges or autism spectrum disorders.
12 Credit Hours; 1 Year
Develop the skills and tools that school counselors need to seek school leadership roles.
15 Credit Hours; 6 Months to 1 Year
Rise to a higher level in education, gaining skills in instructional design, fiscal management, organizational leadership and school improvement.
12 Credit Hours; 6 Months to 1 Year
Prepare to become a leader at the district level while developing as a Christian servant leader.
15 Credit Hours; 1 Year
Pursue this certification to learn success strategies such as immersion and sheltered English, gaining the skills and knowledge to teach ESL students.
12 Credit Hours; 1 Year
Equip yourself with the tools needed to teach gifted and talented students while acquiring real-world experience by collaborating with experts and instructors.
36 Credit Hours; 12–18 Months
Cultivate a solid foundation in academic leadership bolstered by advanced professional expertise for district-level administrative roles.
51 Credit Hours; 2 Years
Prepare to qualify for advanced academic leadership opportunities and pursue three certifications through the Praxis School Leadership Licensure Assessment.
18 Credit Hours; 1 Year
Develop critical leadership skills to impact learning and thrive in special education.
18 Credit Hours; 1 Year
Study learning theory and ways to plan curriculum effectively while understanding how to deliver services to students with disabilities.
About Campbellsville University
Founded in 1906 as a Christian university, Campbellsville welcomes diverse perspectives and prepares students to become Christian servant leaders. We offer online degree and certificate programs in a convenient format so that you can grow professionally and personally by studying when and where you want.
Request Info
A Flexible Way to Achieve Your Goals
With our online programs, you can get the flexibility to thrive in your career and life while seeking a degree or certificate. You won't have to attend campus — instead, you will log into an online learning environment to learn, complete assignments and interact with your instructors and peers. You'll benefit from the same quality education students experience in person, only in a convenient format that we deliver directly to you.
Online Education Programs Designed to Propel Your Aspirations
Choose from over 20 associate, undergraduate and graduate degrees and eight certificates/endorsements tailored to align with your goals in education. We offer courses 100% online and provide access through our interactive online classroom, so you can study when and where you want. As a sign of our quality curriculum, our education programs are accredited by the Council for the Accreditation of Educator Preparation and approved by the Education Professional Standards Board of Kentucky (EPSB) for teacher education and certification.*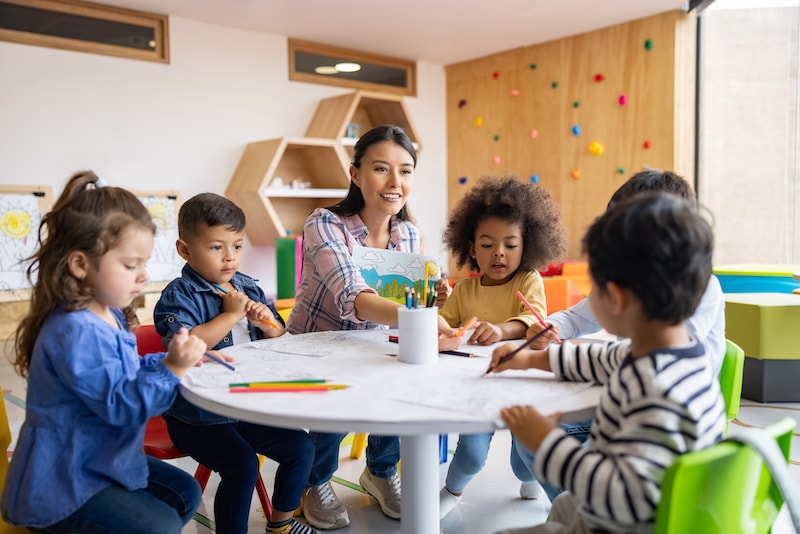 Find Your Path to Success in Education
Campbellsville's online education programs prepare you to make a difference in the world as an educator or administrator. You can learn from faculty members with P-12 experience, gaining knowledge and real-world experience to stand out for the education roles that match your goals and interests.
Rewarding Education Careers
Director of Pupil Personnel
Director of Special Education
Elementary, Middle or High School Teacher
ESL Teacher
Gifted and Talented Educator
Montessori Teacher
Preschool Teacher
Principal
School Counselor
Superintendent
SACSCOC Accreditation
Campbellsville University is accredited by the Southern Association of Colleges and Schools Commission on Colleges (SACSCOC) to award certificates, associate, bachelor's and master's degrees. Contact the Commission on Colleges at 1865 Southern Lane Decatur, Georgia 30033-4097, or call (404) 679-4500 for questions about the status of Campbellsville University.
Sources and Disclaimer
Online Christian Colleges. "50 Most Affordable Christian Colleges and Universities." Retrieved September 13, 2022, from https://www.onlinechristiancolleges.com/.
U.S. Bureau of Labor Statistics. "Education, Training, and Library Occupations." Retrieved September 15, 2022, from https://www.bls.gov/.
*The M.Ed. in Montessori Teacher Education is not currently CAEP accredited or EPSB approved.