Online Elementary Education Programs
Your Success is Our Mission
Learn More
Fill out the form to receive information and connect with an enrollment counselor.
Note: All fields required.
Advance in Elementary Education
Make a difference in the lives of children through exceptional teaching skills and Christian servant leadership with an online elementary education degree from Campbellsville University. We offer accredited, career-focused elementary education programs at the bachelor's and master's levels, enabling you to take the next step in enhancing your teaching abilities. Each program provides hands-on teaching experience and the academic credentials you need for licensure and advancement opportunities.
Campbellsville's online education programs are the most affordable in Kentucky. Many of our programs start at $310 per credit hour.
Campbellsville's professors offer valuable guidance and education to position you for success in rewarding career fields. Our affordable online programs are ideal if you want flexibility in how you learn or need to balance your work and family responsibilities.
More than 90% of Campbellsville students receive financial aid
Named one of the "50 Most Affordable Christian Colleges and Universities"1
Options for dual certification, with Traditional and Option 6 programs available
Online Elementary Education Programs
Campbellsville University Online offers elementary education degrees to support your professional goals. Explore what we have to offer and choose the online program that's right for you.
65 Credit Hours; 2 Years
Gain foundational skills for helping young children build a love for learning.
120 Credit Hours; 4 Years
Develop a global perspective on supporting diverse groups of young learners in inclusive early childhood classrooms.
123 Credit Hours; 4 Years
Make a difference in young students' lives and seek initial licensure for teaching in an elementary school in Kentucky.
120 Credit Hours; 4 Years
Gain expertise in interdisciplinary studies as you prepare for initial teacher certification.
136 Credit Hours; 4.5 Years
Pursue competitive credentials to fulfill your aspirations for elementary education and special education.
122 Credit Hours; 4 Years
Prepare to support primary–12th-grade students with learning and behavior disorders in Kentucky.
36–42 Credit Hours; 18 Months
Pursue a career in teaching by gaining the knowledge needed to support and educate elementary school students.
36–42 Credit Hours; 14 Months
Establish foundational knowledge of the Montessori philosophy and early childhood education methods.
33–39 Credit Hours; 2 Years
Gain the skills to make a positive impact on a child's life and future, helping them build a solid foundation and love of learning.
About Campbellsville University
Founded in 1906 as a Christian university, Campbellsville welcomes diverse perspectives and prepares students to become Christian servant leaders. We offer online degree and certificate programs in a convenient format so that you can grow professionally and personally by studying when and where you want.
Request Info
A Flexible Way to Achieve Your Goals
With our online programs, you can get the flexibility to thrive in your career and life while seeking a degree or certificate. You won't have to attend campus — instead, you will log into an online learning environment to learn, complete assignments and interact with your instructors and peers. You'll benefit from the same quality education students experience in person, only in a convenient format that we deliver directly to you.
Online Education Programs Designed to Propel Your Aspirations
Campbellsville offers associate, undergraduate and graduate degrees that we tailor for diverse educational goals. We offer courses 100% online through interactive classrooms, so you can study when and where you want. You will learn from faculty members with relevant experience in education — with their guidance, you can gain knowledge and real-world experience to realize your goals as an instructor or administrator.
As a sign of our quality curriculum, our education programs are accredited by the Council for the Accreditation of Educator Preparation and approved by the Education Professional Standards Board of Kentucky (EPSB) for teacher education and certification.*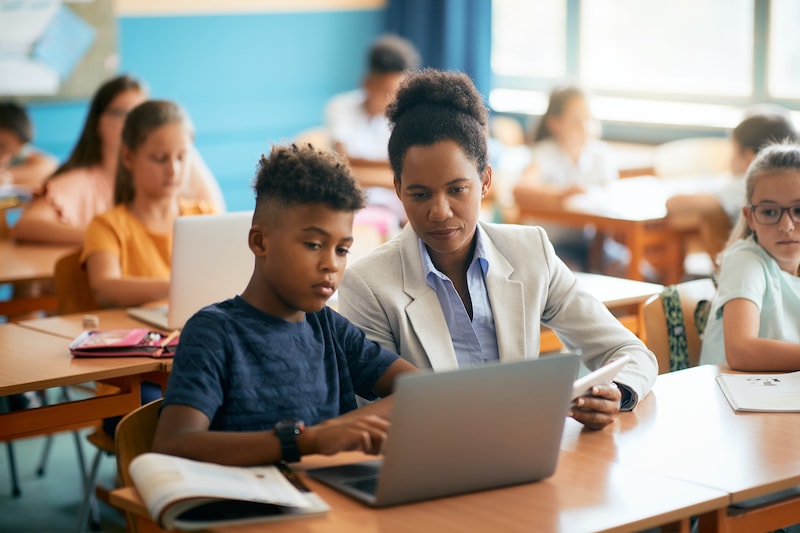 Your Career as an Elementary Educator Starts Here
Campbellsville's online education programs prepare you to make a difference in elementary education. Moreover, you can qualify for roles that offer stability and dependable salaries. For instance, the median salary for teachers at public elementary schools is $61,760 per year.1
Rewarding Education Careers
Elementary School Teacher
Childcare Program Director
Early Childhood Education Specialist
Preschool Teacher
Teaching Assistant
SACSCOC Accreditation
Campbellsville University is accredited by the Southern Association of Colleges and Schools Commission on Colleges to award certificates, associate, baccalaureate, master's and doctoral degrees. Contact the Commission on Colleges at 1866 Southern Lane, Decatur, Georgia 30033-4097 or call 404-679-4500 for questions about the status of Campbellsville University.
Sources
Online Christian Colleges. "50 Most Affordable Christian Colleges and Universities." Retrieved September 13, 2022, from https://www.onlinechristiancolleges.com/.

U.S. Bureau of Labor Statistics. "Kindergarten and Elementary School Teachers: Pay." Retrieved September 20, 2022, from https://www.bls.gov/.
*The M.Ed. in Montessori Teacher Education is not currently CAEP accredited or EPSB approved.