Online Social Work Programs
Your Success is Our Mission
Learn More
Fill out the form to receive information and connect with an enrollment counselor.
Note: All fields required.
Join the Growing the Growing Field of Social Work Advocates
Helping people in need is more than a career — it's a calling. Gain the education you need to make a difference in people's lives with an online Bachelor of Social Work or Master of Social Work.* Our expert faculty impart the skills and knowledge needed for success as a social work practitioner, with courses spanning crisis intervention, law, advocacy, marriage and family relationships, social policies and psychopathology.
Campbellsville's professors offer valuable guidance and education to position you for success in rewarding career fields. Our affordable online programs are ideal if you want flexibility in how you learn or need to balance your work and family responsibilities.
* New Mexico does not accept field placements from out-of-state schools.
More than 90% of Campbellsville students receive financial aid
Named one of the "50 Most Affordable Christian Colleges and Universities"1
Projections show organizations will need nearly 775,000 social workers by 20312
Campbellsville's social work programs are accredited by the Council on Social Work Education (CSWE)
Online Social Work Degrees
Campbellsville University provides flexible, career-focused degrees to help you gain the right skills for the social work career you want. Explore what we have to offer and discover the program that's right for you.
120 Credit Hours; 4 Years
Learn the foundations of social work to become an effective professional and support clients from a position based on ethics and Christian values.
60 Credit Hours; 2 Years
Prepare to become a leader in the social work field by learning to support individuals, families, communities and groups.
30 Credit Hours; 9 Months
Take a fast track to licensure and leadership opportunities in the field by providing direct client services under the supervision of an appropriately licensed social worker.
About Campbellsville University
Founded in 1906 as a Christian university, Campbellsville welcomes diverse perspectives and prepares students to become Christian servant leaders. We offer online degree and certificate programs in a convenient format so that you can grow professionally and personally by studying when and where you want.
Request Info
A Flexible Way to Achieve Your Goals
With our online programs, you can get the flexibility to thrive in your career and life while seeking a degree or certificate. You won't have to attend campus — instead, you will log into an online learning environment to learn, complete assignments and interact with your instructors and peers. You'll benefit from the same quality education students experience in person, only in a convenient format that we deliver directly to you.
Online Education Programs Designed to Promote Your Community and Your Career
With Campbellsville's online social work programs, you can gain skills for supporting individuals, families, communities and groups. In addition to offering flexible online courses, we help you gain hands-on experience to prepare you to assist vulnerable populations. You can also customize your program for your specific career goals. For instance, while seeking our BSW degree online, you can choose electives delving into aging, addictions, foster care and adoption, medical social work, school social work and human rights. Meanwhile, our MSW program includes clinical, substance use (substance abuse) disorder and faith-based areas of focus.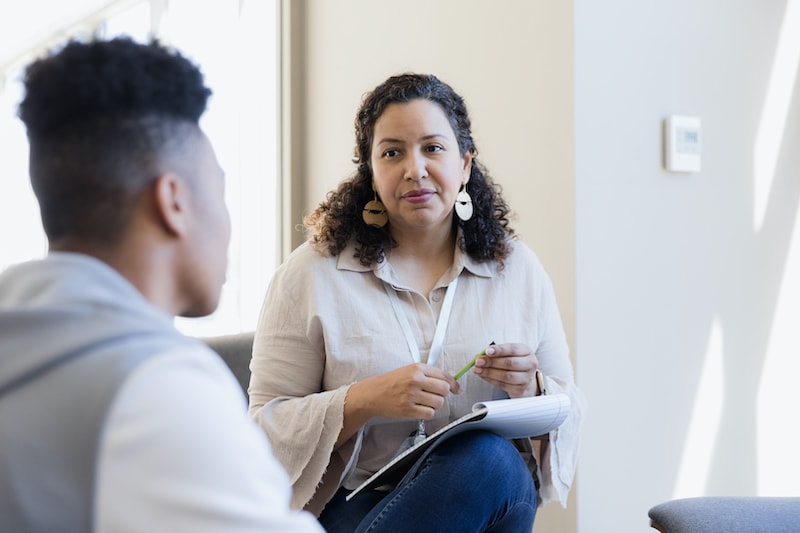 Enter a Growing Career Field
Campbellsville's online social work programs prepare you to meet the growing need for social workers across the United States. From 2021 to 2031, social work employment will increase by 9%, and the median annual salary is $50,390.2
Social Work Settings & Careers
Child and Family Social Worker
Clinical Social Worker
Faith-Based Social Worker
Geriatric Social Worker
Healthcare Social Worker
Mental Health Social Worker
School Social Worker
Substance Abuse Counselor
SACSCOC Accreditation
Campbellsville University is accredited by the Southern Association of Colleges and Schools Commission on Colleges (SACSCOC) to award certificates, associate, bachelor's and master's degrees. Contact the Commission on Colleges at 1865 Southern Lane Decatur, Georgia 30033-4097, or call (404) 679-4500 for questions about the status of Campbellsville University.
Sources
Online Christian Colleges. "50 Most Affordable Christian Colleges and Universities." Retrieved September 13, 2022, from https://www.onlinechristiancolleges.com/.
U.S. Bureau of Labor Statistics. "Social Workers." Retrieved September 20, 2022, from https://www.bls.gov/.