Online Technology Degree Programs
Your Success is Our Mission
Learn More
Fill out the form to receive information and connect with an enrollment counselor.
Note: All fields required.
Develop Advanced Tech Talents to Move Business Forward
Learn from the best with an online IT degree from Campbellsville University. Taught by experts and inspired by Christian values, our online technology programs help advance your abilities while accelerating your career path. Studying at Campbellsville instills practical, real-world skills that apply to a rich array of tech careers, and our faculty has relevant experience to help you on your journey.
Campbellsville's professors offer valuable guidance and education to position you for success in rewarding career fields. Our affordable online programs are ideal if you want flexibility in how you learn or need to balance your work and family responsibilities.
More than 90% of Campbellsville students receive financial aid
Named one of the "50 Most Affordable Christian Colleges and Universities"1
Business IT programs accredited by the International Accreditation Council for Business Education (IACBE)
Online IT Programs
Campbellsville University Online provides career-focused degree programs for aspiring professionals ready to advance in a rapidly growing field. Choose from an array of bachelor's and master's programs and prepare to lead organizations to the forefront of information technology, computer science, data science and beyond.
120 Credit Hours; 4 Years
Master the fundamentals of business leadership while exploring the trends and concepts driving today's fast-paced economy.
36 Credit Hours; 2 Years
Hone your technical and business talents to modernize how companies access opportunities in a global economy.
36 Credit Hours; 2 Years
Immerse yourself in cutting-edge technologies with the power to transform how companies attract customers.
30 Credit Hours; 1 Year
Become an expert in how companies harness cloud computing through this online STEM program.c
30 Credit Hours; 1–2 Years
Gain IT and computer science expertise to meet the growing demand for leaders in innovative fields.
36 Credit Hours; 1 Year
In this STEM program, you can learn to implement AI and machine learning to solve challenges and achieve goals.
About Campbellsville University
Founded in 1906 as a Christian university, Campbellsville welcomes diverse perspectives and prepares students to become Christian servant leaders. We offer online degree and certificate programs in a convenient format so that you can grow professionally and personally by studying when and where you want.
Request Info
A Flexible Way to Achieve Your Goals
With our online programs, you can get the flexibility to thrive in your career and life while seeking a degree or certificate. You won't have to attend campus — instead, you will log into an online learning environment to learn, complete assignments and interact with your instructors and peers. You'll benefit from the same quality education students experience in person, only in a convenient format that we deliver directly to you.
Learn to Innovate New Possibilities Across Industries
Nationally ranked as one of the most affordable Christian colleges and universities, Campbellsville University is committed to providing you with an educational foundation to make a difference in the world through your career. As an online IT student, you can delve into artificial intelligence, cloud computing, and other advanced technologies while exploring how to harness innovation to make an impact on behalf of employers and across society. You can also explore technology through a business lens to capitalize on how technology could change the global economy.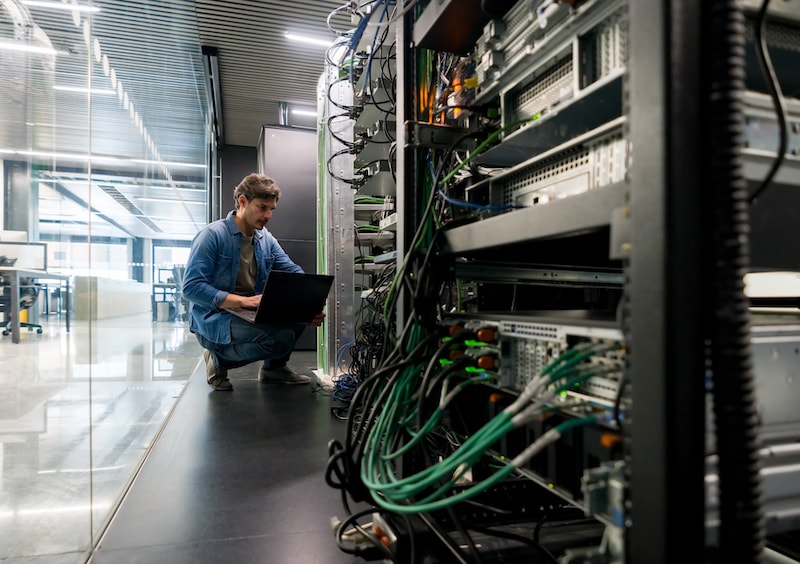 Take Your IT Career to the Next Level
Working in the tech sector can deliver employment stability and a lucrative salary. The U.S. Bureau of Labor Statistics estimates 15% job growth in this field from 2021 to 2031. Additionally, the median salary for technology professionals tops $97,000 per year.2
Rewarding IT Careers
AI Engineer
Chief Technology Officer
Cloud Architect
Data Scientist
Project Manager
Systems Analyst
Software Developer/Engineer
SACSCOC Accreditation
Campbellsville University is accredited by the Southern Association of Colleges and Schools Commission on Colleges (SACSCOC) to award certificates, associate, bachelor's and master's degrees. Contact the Commission on Colleges at 1865 Southern Lane Decatur, Georgia 30033-4097, or call (404) 679-4500 for questions about the status of Campbellsville University.
Sources
Online Christian Colleges. "50 Most Affordable Christian Colleges and Universities." Retrieved September 13, 2022, from https://www.onlinechristiancolleges.com/.
U.S. Bureau of Labor Statistics. "Computer and Information Technology Occupations." Retrieved September 14, 2022, from https://www.bls.gov/.